Skip to Content
Bee & Wasp Control
Wasp & Bee Control in Wisconsin is critical for the comfort and safety of you, your children, guests and pets. We can take care of Wasps and Bees in all types of places including peaks of your house, trees and other difficult to reach areas. Our bee stick and equipment allows us to get to the source and take care of your problem. We use a cherry picker or lift to get to the highest places if we need to.
Honeybees are important to our eco-system and we to relocate Honey Bees and not kill them – we work with many local beekeepers to come and relocate active hives so they are out of your area and back to producing honey in a space that is good for them.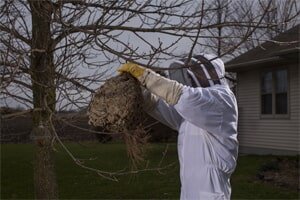 Also Serving Green Bay and Oshkosh
We serve clients in Fond du Lac and the surrounding areas, including Green Bay and Oshkosh. For rodent, pest and cockroach control, you can trust our team of professional exterminators. To make an appointment with us or learn more about our services, call us at 920-922-8152.