Skip to Content
About Eliminator Pest Management Co
Eliminator Pest Management Co was founded in 2003 as a full-service, independent, Northeast Wisconsin-based pest management company. Dave Kuharski founded the company after being in the Pest Industry with one of the "Big Pest Companies" as an employee, manager and trainer for nearly 15 years, beginning in 1990. The company was founded under the principle that the best way to care for customers when they have pest problems is to treat them fairly, charge them reasonably and do an effective job at eliminating or controlling the pests that are affecting their property. We have Master Tech Certification – meaning that you have the best experience and knowledge of how to control pests that is available. Our experienced staff is passionate about solving or managing your pest problems to your complete satisfaction.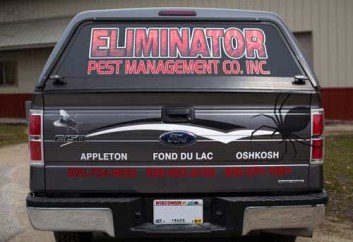 How Do We Do It?
Quality Service at a Fair Price: We do what's necessary to help – and avoid services that aren't worth your money. If you don't need it…we won't do it.
Preventive Care can be the best management solution: We believe an ounce of prevention is worth a pound of cure. Limiting pests from getting into your home or business.
We don't lock you into a contract: Our customers stay with us because they want to – not because the contract says they have to. If you want to stop your service for any reason –just let us know.
Excellent Employees: Our team of friendly Pest Management Experts have a lot of experience and have been with us for many years. They are loyal to our customers, interested in solving pest problems and committed to helping keep you and your family happy. We are excited for you to meet them.
Master Tech Certification. What Does It Mean?
The WPCA Master Tech Program is a qualification for pest control professionals currently working in the industry. Achieving Master Tech status assures your customers of your commitment to quality service, and to advancing the science of effective and safe pest management practices. Techs who become certified as a Master Tech earn the right to wear the Master Tech uniform patch. The Master Tech exam consists of questions related to vertebrate pest control, insects, IPM principles, and laws and regulations.
The Master Tech Program is jointly sponsored by WPCA in cooperation with the Insect Diagnostic Lab at UW-Madison and the Wisconsin Department of Agriculture, Trade, and Consumer Protection.