Skip to Content
Expert Ant Control
Though food and sugar substances attractants, they typically don't need an excuse to invade your home. Come summertime, most homeowners are looking for effective ant control solutions, but store-bought and DIY methods of removal often don't make the cut. Eliminator Pest Management Co offers professional extermination services that are more than just a treatment for ant infestations. Our pest control also provides prevention to guard against the possibility of future infestations, too. Our exterminators will help you get rid of the ants plaguing your home or business in Fond du Lac.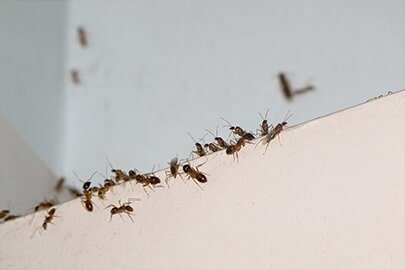 Prevention and Exclusion for Your Home
Getting rid of ants is only part of an effective solution. Once they have been eradicated, it is essential to strategize prevention methods, too. If you do not pay attention to that latter part of pest control, ants and other pests will simply invade your home all over again and leave you at square one. We offer exclusion and prevention services that include the following:
Destroy nests so entire ant population is eradicated
Repair vulnerabilities and entry points in the home
Identify nesting points to exclude ants from reentry
Taking Care of Infestations
Ants are one of the most common and difficult to eradicate pests that you might encounter in the Fond du Lac area. As soon as warmer months arrive, they seem to appear everywhere, but luckily, Eliminator Pest Management Co can provide the extermination services you need. We specialize in ant control for clients in areas such as Oshkosh and Green Bay. We also offer spider removal and wildlife control, so if you need help eliminating unwanted pests, we are the name to trust. Call 920-922-8152 for an estimate or more information.
Ant Service – One-time ant treatment – guaranteed to work for one year. We wouldn't offer a one-year guarantee if it didn't work. Again, we guarantee you will be happy. This is for household and carpenter ants. Certain ants may require a different program (i.e.: Pharaoh ants, etc.). We will prescribe which program fits best for your situation.